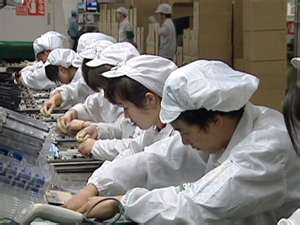 Within an article entitled 'Rumor: By 2013 Foxconn Doubles Its China Wages,' Tech in Asia cites Terry Gou, company Chairman, who allegedly talked about the wage increases with Taiwan Business Weekly. The reported raises are the most recent chapter in a one-year-long saga in between Foxconn and its employees in China. Nine workers committed suicide in 2010 by leaping off of buildings. A fire and explosion killed 3 people in 2011 in Chengdu, China, and earlier in 2012, an approximately 150 workers threatened to commit suicide in protest for better work conditions.
Foxconn also was the center of a ballyhooed episode of radio show 'This American Life.' The alleged wage increase, according to Tech in Asia, sends the month-to-month earnings from 2,200 RMB – 4,400 RMB, equaling around $690 U.S. dollars.
Popular BitTorrent website KickAssTorrents might be blocked by every Italian Web service provider, according to one article from Torrent Freak. According to the article, one ISP blocking order was issued after an investigation of charges the website is run by criminals. The investigation alleges that the website generates $8.5 million/year from ads and additional revenue.
Europe heightened its efforts to thwart file-sharing, copyright-infringing websites. The Netherlands and the UK both ordered its ISPs to block Pirate Bay a couple of weeks ago. In fact, the Netherlands ordered the removal of websites which provided tips on how a person might access Pirate Bay.
According to the BBC, A Chinese telecommunications equipment manufacturer, Huawei, filed a complaint with regulators in Europe against United States-based tech developer InterDigital. Huawei accused the tech developer of leveraging its position, as well as charging an overabundance of money for its patented technologies.
Huawei charged that Interdigital wants to leverage its 3G standard essential patents in order to force Huawei to conclude an exploitative, unfair and discriminatory license. The business added that InterDigital, which owns 19,500 mobile communications patents, is currently in breach of European patent licensing laws. InterDigital responded by saying that it's been following international laws.